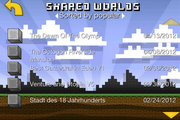 When the user opens the game, they will be brought to the main menu. It has the worlds you currently have created/downloaded, where the user can scroll through and select the world. To the top left is the "Delete World" option and to the top right is the "add world" button. To the bottom left is the "Upload World" button where the user can upload any of their worlds for everyone to see/download. At the center of the bottom is the settings button, which will bring you to the settings menu, where the user can toggle Music, Sound effects, autojump, graphics, and creatures on and off. To the bottom right is the "Download World" button. This will take you to a menu where the user can select a world to download.
Ingame
The interface of Eden is touch-screen exclusive and is very easy to use. There is a virtual
joystick
at the bottom left to move around and the user swipes the screen to turn in any direction. There are five buttons to the right, listed from top to bottom:
fire
,
pickaxe
,
block selector
,
paint
, and
jump
button.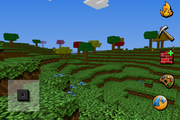 Trivia (And Pictures)
The desired action only works if it is highlighted, which happens when the user taps the option. (The Joystick and Jump button always work)
If the user is to press the fire or pickaxe while they are highlighted, they will cease to be highlighted and the user can't accidentally alter their world

.
There can only be one highlighted item at a time.
If the user chooses a color and then selects a block of any kind from the block selection, the blocks placed will be the selected color every time it is placed
When a block is selected, the block selection button icon will change to show the current block being used. It will also show the color of the block.
You can place up to 5 blocks, light 5 things on fire, destroy 5 blocks, or paint 5 blocks at the same time by using the proper tool and using five fingers on all of the blocks you want to change, or want to place blocks on.

Kingly Games stated that the save/exit/camera buttons are getting their own little menu to make room for the new blocks.