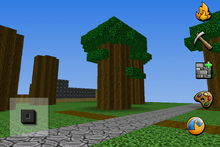 JonEden has been building with Eden for over a year, since the game arrived with the joystick feature. He started building a simple world, which just kept growing, including things like Atlantis, a giant worm and it's stomach, underground pyramids, floating islands, and magical trees. It grew and grew, and it was eventually released under the name: Stairway to Hell, as a factory led to a mini-Hell area, after which you could take the stairs up and out...if you could find them. It's name was eventually changed to TERRA the Video game, after Jon realized that: It was really hard to find the factory/lab. So it remains the world's biggest easter eggs.
His next world was a bit more story based, being based on a fantasy world crafted by one of his friends. Each update was named as a "mission" (ie: MISSION 4) This world was quite small, as each part of it could be explored in seconds. He never really got anywhere, although he posted the story to follow online on his special blog for it. He just wasn't good with Normal worlds...well, he thought so anyway. 
His next big one, and most updated, was Kain of the Exiled (KotE with Easter Eggs). Read the page to find out about it.
He also has created special types of worlds. For example, his VG Designs/Classics series, which comprise of ideas for maps for one of his video games he is coding, or the Classics, which are ecreations of classic videogame worlds. 
His other world series is Coasters. The only one in production currently is Coasters 'Haunted House', a Halloween themed one. 
He has created many miscellanious worlds also, but many were wiped with the incident...
Community content is available under
CC-BY-SA
unless otherwise noted.