Line 6:
Line 6:
 

It was the dawn of 2008, Americas economy was in a horrible state yet the Internet flourished like never before. I was a lone traveller on the vast superhighway called the internet. I was in the midst of writing my novel when i got an email from a friend in college (i never went to college) It stated "strtin a gaming site u in?" and i responded "Ohhhhh yeah" so we held an online chat with 6 other friends and we started a small gaming website called: controlliacs, It gave you news about gaming, game reviews, and forums. I was in charge of game reviews, my first review was on Tom Clancys Rainbow Six Vegas, which recieved a 8 out of 10. I continued reviewing until 2011 when my friend dropped out of college and went to go work for gamespot.com. He then shut down the website and i lost my fun job as a game reviewer. I started playing eden after i downloaded to review it and i couldn't stop playing, and i frequented the wiki since it started but i never joined until recently. and that is my story of how i got here.

 

It was the dawn of 2008, Americas economy was in a horrible state yet the Internet flourished like never before. I was a lone traveller on the vast superhighway called the internet. I was in the midst of writing my novel when i got an email from a friend in college (i never went to college) It stated "strtin a gaming site u in?" and i responded "Ohhhhh yeah" so we held an online chat with 6 other friends and we started a small gaming website called: controlliacs, It gave you news about gaming, game reviews, and forums. I was in charge of game reviews, my first review was on Tom Clancys Rainbow Six Vegas, which recieved a 8 out of 10. I continued reviewing until 2011 when my friend dropped out of college and went to go work for gamespot.com. He then shut down the website and i lost my fun job as a game reviewer. I started playing eden after i downloaded to review it and i couldn't stop playing, and i frequented the wiki since it started but i never joined until recently. and that is my story of how i got here.

 
 
−

PS: i told my friend about this wiki since he plays too and he might join.

+

PS: i told my friend about this wiki since he plays too and he .

 
 
 

==Contact me==

 

==Contact me==
---
Revision as of 23:19, 16 June 2012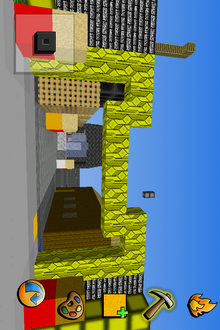 This is my first wiki that i have joined, and i plan to edit as much as I can. I play Eden constanly ever since I downloaded it. Right now im only working on one world and it called Great Phildonia, and i just released v2.
My personal history
It was the dawn of 2008, Americas economy was in a horrible state yet the Internet flourished like never before. I was a lone traveller on the vast superhighway called the internet. I was in the midst of writing my novel when i got an email from a friend in college (i never went to college) It stated "strtin a gaming site u in?" and i responded "Ohhhhh yeah" so we held an online chat with 6 other friends and we started a small gaming website called: controlliacs, It gave you news about gaming, game reviews, and forums. I was in charge of game reviews, my first review was on Tom Clancys Rainbow Six Vegas, which recieved a 8 out of 10. I continued reviewing until 2011 when my friend dropped out of college and went to go work for gamespot.com. He then shut down the website and i lost my fun job as a game reviewer. I started playing eden after i downloaded to review it and i couldn't stop playing, and i frequented the wiki since it started but i never joined until recently. and that is my story of how i got here.
PS: i told my friend about this wiki since he plays too and he just joined.
Contact me
My email is: acewriter22@gmail.com
My twitter is: thatguywhogames
My psn is: acetyn81
My Youtube is: mrphillcook
I dont have a gamertag because i dont see the point in paying for multiplayer unless its an mmo.
I wont give you my facebook or pinterest
And my wii code is: I DONT HAVE A WII CODE CAUSE THEY SUCK
Thanlk you for reading and have a nice day =)~