The Shared Worlds menu is a part of the User Interface. It one of the most social aspects of the game. There are three directiories for this menu: Sorted by popular, Sorted by date, and Search for name. The Shared Worlds get updated from time to time, revealing the most recent and popular worlds at the time. There are easily over 100 Worlds added a day. There are arrows for these lists, as there are many Worlds to look through.
Download
The space between the arrows is filled with the dates they were published, and the left side has the name of the World published. When the user taps on the name of a World, they are directed to a screen where they can choose to "Load" the world. above it is a preview of the world, and the User cannot upload the World without one. If the user decides to download it, then a percentage will appear as the download begins. The user will then be redirected to the main menu.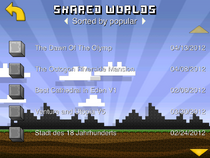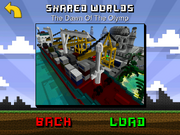 Trivia
The popular worlds have been updated for June, 7, 2012.