Laibai City
Laibai city is a world in Eden World Builder. It consists of multiple cities and biomes as well as time periods. If you want me to do something special, you can ask me and I will do it.

Was created March 18th 2014
Names of version:
- Laibai city preview
- Laibai Desert
- Laibai City v3
- Laibai City v3 and a half

Neighbourhood:
Old city: The first working class neighbourhood in the city, on the left side of the white highway
Cyber: A neighbourhood set in the future in a cyberpunk era. (Has not visible form of nature, grass, trees...)
Desert: self explanatory
(I'll add the other ones later on)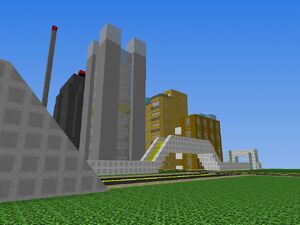 Mega block I'm working on & mega tower in the far background. (Cyberpunk)
Population: 1243 If 2.6 People/household Under construction (with cranes): 1 Low rise (0-11 blocks high): 39 High rise (12-24 blocks high): 17 Skyscrapers(25+ blocks high): 13 Industrial: 2 Steampunk: 5 Mega Blocks: 2 Mega Towers: 1 Mansions: 2 Desert buildings: 20 Aboriginal buildings: 4
Total area of the desert: + 100 000 blocks square.
Total number of buildings: 106
Community content is available under
CC-BY-SA
unless otherwise noted.