Kritoga
Kritoga the third and final world built by slang that combines a use of different building styles from more than 4 famous worlds. It was founded in 2017. It is meant to be a new somewhat metro/city in the Santogan Nation. It is built out of nothing. The first official, non-beta version of this world was released on June 9th, 2020.(From Santoga).The current version takes approximately 350mb.
The next version is 3'1 which mainly consists of transportation additions and new buildings.
Kritoga Future
More infrastructure is being built and the old inconveniences of the oldest sectors are being replaced. The city's expansion north is vital to new improvements in technology as well as design and urbanization. Cultivators will also be moving in towards the outskirts, but the main focus is the urban, more modern city. Below is a list of expansions planned.
Increase of building height (In the case of a height limit increase update)
Decommission and demolition of the old port
North Harbour master plan
Super Housing sectors master
Airport master Mk.IV
About
Airport
Phase 1 & 2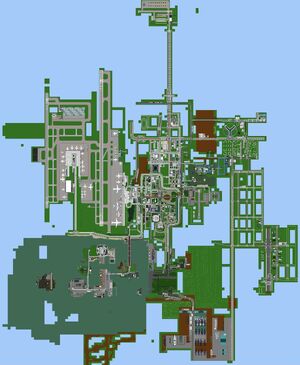 These are the 4 terminals of the airport. The unlikely expansion had been considered, with a build cost of 50.000.000.000$. The high cost discouraged the construction in the past, but furthermore, the cost was reduced from the new currency system used by the frabanta alliance. The original terminal building was refurbished, and had several makeovers. The second building (which consists of a main building as well as two concourses) was constructed to accommodate short haul flights as well as short bodied aircraft (A320 family). The second building's build cost was approximately 27.000.000.000$, and was funded by the government.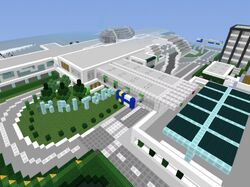 Phase 3
Phase 3 of the airport was to extend the runways for long haul and wide body airliners as well as heavy cargo aircraft (B747 and An-124). The extension was completed early 2021.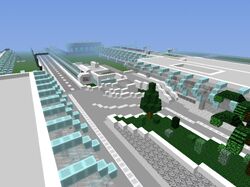 A Santogan airlines hangar was constructed on behalf of Frabanta architects and completed after the airport expansion.
The airport is the new hub of SantoganAirlines due to expansions.
Phase 4
Phase 4 of the airport is adding the heavy international flights terminal. This will be a satellite terminal. The runways will be extended again, to accommodate for more activity.
Port and Harbour Services
The first port will be decommissioned and demolished later, as a new one in the Wengen sector will be completed soon.
Civilian Port
This port is for all incoming container ships and fishing boats as well as small cruise ships. The port has 4 cargo spots, and 12 cranes have been installed. There is also a port for oil tankers to dock, and is owned by the Santogan Renewable fuel Company, which specializes in creating fuel out of renewable resources and reducing carbon footprint.
The new port will also accommodate Santogan navy ships. The navy currently has 10 ships that call the port home base.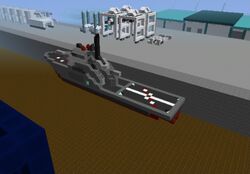 Bay Plazas
There is currently 1 plaza for shopping and residential needs. There is also a harbour fire department there too with its own pier. New dry docks are also in development.
Rail Systems
About
A new rail system has been installed to replace the old wider gauge railway, which is now notable for coordination between freight and passenger services and defense transportation. With this new additional rail system, civl works can proceed even better. The military defenses also use the new rail system for troop and equipment transport. The rail is estimated to run all the way to the new harbor.
Cargo Lines
The cargo transport by rail is essential for logistics and supply chains.
InterCity Tram
The interCity tram is used for downtown people transport. There is another overhead rail that connects the old downtown with the newer one.
Rapid Tram Transport
The new rapid transport line is notorious for its high speed.
Rail Inventory
The railway currently consists of these types:
| Type | Designation | Configuration | Notes |
| --- | --- | --- | --- |
| Rail Freighters | | | |
| TR Diesel 8796 | — | LCCCC | |
| TR Diesel 8797 | — | LCCCC | Military version. |
| TR Electric 904 | — | LLCCCCC | |
| - | — | LCCCCC | This type has not yet been documented, and more info is needed. |
| InterCity Tram | | | |
| TR 5678 | <4-4> | LR | Similar to the NYC subway, but above ground and shorter. |
| TR 890 | <1-1> | L | |
| Rapid Tram Transport | | | |
| TR Type 6593 Mk.I | <2-5-5-2> | LCCR | Similar in shape to the Hayabusa |
| TR Type 6593 Mk.II | <3-5-5-3> | LCCR | Possible replacement to the entire Mk.I fleet. |
| TR Type 486 | <3-5-3> | LCR | |
Residency
Residential sectors come in different kinds: rich mansions, middle priced housing and small town houses. Several sectors are being developed on behalf of Frabanta architects hired to construct several entire sectors worth of housing and infrastructure. This contract will cost 100.000.000.000$. A new highway will also be constructed by them and will cost 5.000.000.000$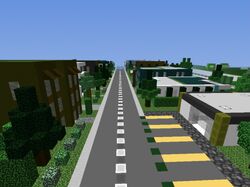 Houses in lower class sectors will have a medium cost of 350.000$ to 450.000$.
Houses in middle class sectors have medium cost of 550.000$ to 600.000$.
Houses in higher class sectors will have a medium cost of 800.000$ and may go all the way up to an extreme 15.000.000$.
Apartments all over the city have a medium prices of 300.000$ all the way up to 1.000.000$.
Currency, Housing Solutions and Rates
The currency and its following system shared by the frabanta alliance do not control mortgage rates as well as taxes for houses and their properties, furthermore individual alliance members are responsible for tax and mortgage payments.
Sectors
Centralborg
This is the first sector in the city built.
Borreed
Also know as the 'downtown', features high rise, and a middle-high school. Also has a mall in the making. A new downtown will be made as expansion continues.
Ariksborg
Also known as 'lil Amsterdam', this sector has many housing/shopping plazas, and is home to Ariksborg lake.
Wallegenborg
This is a small sector in the Wallegenborg valley. It is where the highest buildings are, and architectural feats. There are two bridges that pass over the valley, one for trolley, and the other a highway.
Rallikborg
This is a residential sector, will only have neighborhoods.
Keriksborg
Also known as 'Samaraborg', is the entire bay area .
Gramborg
This is the area where the airport sits. The sector goes on past the airport itself.
Wengen
This is the northernmost civilized area. This sector is mainly the industrial center of the city, and includes the main harbour.
Dorenborg
Housing
Kaplak
Housing
Rodenborg
Housing
Brusselsborg
Housing
Borros
Housing
Midborg
The future downtown
Sector Maps
Coming soon
Santogan Military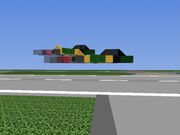 Note that this was to be a separate article for Santoga.
Santoga is considered a neutral zone. The military is voluntary, and does require intelligence and physical testing. The most military is directed towards defensive warfare, and can be switched to an offensive directive in a situation. Note that most of the military and inventory are for reserve.
Santogan Airforce (SGAF)
The entire airforce is dedicated to air defense. No fighters are equipped with missiles or bombs, unless needed. The airforce is the main line of defense to secure any conflict in the air. The Air Force is also responsible to assist the navy and army in combat engagements, only if they are overwhelmed or in a bad situation. Many old aircraft have been retired to cut costs. A400s have been sold to also cut cost, with the airforce in favor of the C130s. This is so that the defense can operate under a smaller budget as well as an increase in combat abilities. The airforce has also worked with the United States of Eden (equal to in real life USA) to acquire F-22s and B-1s. In preparation to (if any) nuclear crisis caused by an opposing pact, the B-1 bomber squadrons will be a first line of defense along with a special F-22 variant able to shoot down any jet, even at a higher speed in the case of an offensive warfare situation. Bellow is the aircraft in the airforce currently.
Aircraft type
Number
Purpose
Notes
F-15B Eagle
200
Multirole
Most are on reserve. There are 4 F-15s in the "Golden Vikings" demo team.
F-5E Tiger
50
Training/multirole
Being delivered
MQ-9 Reaper
25
Combat drone
Also used for surveillance over suspicious land; heavily armed.
Bombardier Sentinal G.1
4
AWACS
All stationed at El Santoga
C130J-30 Hercules
10
AMC
Replacement orders to the KC-46
MC-130J Hercules
6
Combat craft
MC-130J is a combat plane that is also dubbed a gunship. They serve on peacekeeping missions.
Lockheed F-22B Raptor
25
Air superiority fighter
Replacement to a quarter of the F-15 fleet.
B-1C Lancer
7
Tactical bomber.
Most on reserve.
Airbus A320-131
2
VIP transport; 'Airforce two'
Airbus A321N
2
'Airforce One'
Reserved types
F-16B Fighting

Falcon

100
Multirole
On full reserve
Bell UH-1YB Iroquois

(Bell 412G)

100
Transport/logistics
On full reserve
Missile/missile Defense Systems
These are all systems used for Air/missile defense.
Note most of the systems are fitted on navy ships.
| Type | Purpose | Notes |
| --- | --- | --- |
| X Anti missile rocket | Knocks missiles off course | The main physical object for missile defense and the only one that makes contact with the target missile. |
| SG Polaris 2 | Anti Aircraft/Missile defense system | Fitted on the X class Aircraft Carrier |
| AirGuard360 | Anti Aircraft assault defense system | |
| SeaGuard360 | Anti naval assault defense system | |
| RapidFire MK1 | Extreme rapid fire Anti Aircraft/missile gun | Used in all branches, fitted to ships in the navy as well. |
| Sparrow MK1 | Anti aircraft/tank/ship/boat/missile defense missile | |
| YAL-750A (CRJ-750(F)) | Experimental laser to destroy missiles and possibly other aerial objects. | Similar to the YAL-1 system. 2 in inventory. |
Note the Santogan Navy also shares equipment with the airforce AMC units.
The navy supports the airforce, and recon missions usually involve both branches.
The Navy Marines and Coast guard are semi branches in the navy, and sometimes share equipment. The navy also has a special elite operations unit (seou).
The navy uses the geography of Santoga as an advantage, as there are many islands that can be used as defense. Most of the navy stays in the domestic waters in the channels of islands. Ships are identified from their gray color and Santogan flag.
Bellow is the inventory of the navy.
Type (A for aircraft)
Number
Purpose
Notes
N/A
1
Air logistics "base"
Retired and will be scrapped.
X class Medical/transport ship
Unknown
Medical ship
X class cruiser
6
Cruiser
3 at port
Vought Class Guided Missile Destroyer
2
GMD
1 at port
X class Aircraft Carrier
REDACTED
Aircraft Carrier
1 at port
X class heavy missile submarine
3
Submarine
3 at port; 1 is a stretched variant.
Gung Ho class Super frigate
2
Patrol/logistics
1 in port; The flagship.
P-8B posiedon (A)
4
AWACS
Formerly with the airforce AWACS squadron, and were transferred to the navy 5-3-2021
EA-18G Growler (A)
175
Multirole
Most are on reserve.
Lockheed Martin F-35B (A)
10
Advanced hover/

logistics fighter

Bell AH-1 cobra (A)
75
Attack helicopter
Most are on reserve.
MH-60D Seahawk (A)
90
Cargo transport
Most are on reserve.
Santogan Coast Guard (SGCG)
Coast guard is the first semi branch in the navy. Bellow is the inventory of the coast guard.
| Type (A for aircraft) | Number | Purpose | Notes |
| --- | --- | --- | --- |
| X class CG frigate | 2 | Patrol | 1 in port; the coast guard flagship; will be an anti smuggling/illegal operations command. |
| X class recovery ship | 3 | Rescue/recovery | One in bay, can hold medium sized ships, has a built in crane, a small hospital, and a helicopter pad. |
| MH-60B Jayhawk (A) | 20 | Search & rescue | |
The marines are the last semi branch in the navy. The navy marines also include several units of special elite operations teams that help with guarding bases and important government officials. They are the offensive defensive line of the military, so they are the only branch that conducts offensive warfare. Below is the inventory of the Navy Marine Corps.
| Type | Number | Purpose | Notes |
| --- | --- | --- | --- |
| A-10 | 25 | Anti-ground vehicle jet | Famous for its demo team, called the "Gold Vikings". These anti tank jets are part of the air offensive wing. |
| AH-6C Seahawk | 25 | Attack helicopter | |
| P-3C Orion | 4 | AWACS | |
Santogan Army (SGA)
The army is the last branch in the military. Bellow is the inventory of vehicles and aircraft. Note that 4 out of 5 of tanks are for reserve.(statistic)
| Type (A for Aircraft) | Number | Purpose | Notes |
| --- | --- | --- | --- |
| Boeing CH-47G chinook (A) | 50 | Transport/logistics | Used for heavy lift cargo transport operations |
| Bell AH-1 Cobra (A) | 50 | Attack helicopter | |
| Bell UH-1YB Huey (A) | 50 | Logistics | Medical transport |
| M100 | 100+ | Main battle tank | Similar to the M1 Abrams |
| M47 long range | 100+ | Self propelled artillery | Similar to the Palmaria |
| M23 mobile cannon | 100+ | Self propelled artillery | Similar to the AS 90 |
| M31 amphibious AV | 100+ | Amphibious assault | Similar to the LVTP7 |
| MMLS | 40+ | Missile launcher | Similar to the SA-10 |
| Type 8 HMV with AA/AT | 50+ | Armored Amphibious Vehicle | Similar to the TUZ 420 |
| Type 3 MLRS | 20+ | Multiple launch Rocket System | Similar to the MIM 104 |
| Type 6 Amphibious Transport | 50+ | AV | Similar to the Bv 206 |
| Type 3 AA/AT gun | 500+ | Rapid fire anti aircraft/tank gun | Fitted on tanks |
| Type 9 Guided missile system | 100+ | Guided missile - Anti aircraft/tank | Similar to ones fitted on ships, this system is used for the mobile missile launching system (MMLS) |
Government Programs
SpaceForce (Joint Frabanta Alliance)
The space force is a joint frabanta alliance program intended for space missions, and technology testing. The space force will create several missions for a space station, missile defense satellites, and a shuttle program. The frabanta alliance has worked with Eden UN (not United Worlds) for funding and approval.
[REDACTED] Program (Joint Frabanta Alliance)
Part of the article for this program has been released.
The [REDACTED] Program is a new program funded by the Frabanta Alliance, and is meant to [REDACTED]. The Santogan Airforce is in command of the [REDACTED] Program. The command center is in a [REDACTED] in [REDACTED].
Scheduled full military inter government disclosure to be in late 2021.
Bellow is the inventory of the [REDACTED] Program.
| Type | Purpose | Notes |
| --- | --- | --- |
| Type Q-6 UAV | Unknown/various | Invalid type notation |
| Type 2 Mount vehicle | Unknown/various | Invalid type notation |
| X-301 | ? | |
Crew Weapons
Combat knife (all army members)
M1014 combat Shotgun
AT4-AGuided Missile (used with tank groups)
M134 minigun
MG-3 Machine gun
MGL55 Semi-auto grenade launcher
M416HK
SCAR-L AR
M24 sniper
HMP5S SMG (Airforce)
P92 pistol
M204 grenade launcher (for all rifles)
MK 18 Marksman rifle
[REDACTED] gun (used in the [REDACTED] program)
[REDACTED] weapon (used in the [REDACTED] program)
_________________________________________________________________________________________________
Replaced, Destroyed and Current Iconic Buildings and Landmarks
Many buildings have been built/replaced. Bellow lists iconic buildings and landmarks that led to the expansion of the city.
| Building/landmark name | Use | FAQ | Completion estimation |
| --- | --- | --- | --- |
| KOG airport terminal 1 | Airport terminal | The original terminal building; was expanded and then remodeled in the 0'7 update. | 5/2019 |
| KOG terminal 2 | Airport terminal | Was destroyed and replaced by a new 3 terminal rotunda | 7/2019 |
| Ogenborg Airport | Airport | The main international airport of Kritoga. There are 3 terminal buildings, 2 are international. There is 1 control tower, 1 fire department, 1 private jet terminal, 5 different letter gates, was essential to the expansion of the city. | Still under renovation. |
| Central building | Apartment/residential | This was the first and highest building in the city and was replaced in the 1'7 update. | 6/2019 |
| Basketball stadium (central) | Stadium | The only basketball stadium; will be replaced in the 2'4 update | 6/2019 |
| Football stadium (central) | Stadium | Will be destroyed in the 2'4 update | 6/2019 |
| Kritoga Airbase | Airbase | A bomber crashed there early in its life, and was moved south for residential reasons. | 8/2019 |
| Dorenborg Stadium | Stadium | The newest stadium, is to replace the first football stadium | 10/2020 |
| Borreed Mall | Shopping, dinning, etc. | A new mall located in the Borreed sector; it is currently under construction. | ? |
| North Point Airport | Airport | Small airstrip by the North Harbour access road. | 10/2020 |
| Laydon Isl. Airport | Airport | Small airstrip on an isolated island in the Kritoga Bay. | 9/2020 |
| Kritoga governor's house | House | | |
| BioDrome | Park | A dome building with an indoor park and plants. | |
| Sands amusement park | Park | | |
| Kritoga Aviation Museum and Pilot Training Center | Museum/school | | |
| Centralborg Kritoga University | School | | |
| / | | | |
| / | | | |
| / | | | |
Iconic Buildings and Landmarks Gallery
Coming soon
***This page was created by slangB, and may not be tampered with by unauthorized users***
Community content is available under
CC-BY-SA
unless otherwise noted.