Intro to This World
Krit City is a world built by Beeeen4 that combines a use of different biomes such as forestal, ocean, urban, industrial, and more. It is meant to be a new somewhat metro/city in the Santogan Nation. It is built Ex-Nihilo or out of nothing. The first official, non-beta version of this world was released on June 9th, 2020. (From Santoga)
Fictional History
The city started from a small town founded by a colleague of George Aston, Richard Henso in 1858. The town had continued to grow until it becomes a city. During the Cold War between Two Titans and PMB, all of Santoga Nation had riots in the three major cities.
These riots existed for a year, which was called the "darkest year in Santogan history". The Santogan government had finally suppressed them right at the end of this year. The government and partners had helped to rebuild the destruction caused by the riots, in the end.
After the Cold War, El Santoga and Krit city regional governors (at the time) had issued during a conference at Olympic Metropolis, that Krit city and other Santogan regions will have no intention to attack, but to defend. This conference started the Santogan Defense Force. The city had adapted to normal life again over the years. Kingly Games accepted the changes.
Areas, Buildings, and Places
To find places in Krit, the central area (player spawn or home area) is used to find locations in the world.
Central Area (Used as the Center to Find Other Places)
Apartments, stores and housing.
Krit Southern (South of Central Area)
Krit lake:
3 islands, 1 for regional governor's house and 1 for villa housing.
Krit Santogan Air Defense Base:
Separate 'village' for the regional air defense squad #329.
SantoganAir Corp. Office:
Secondary Corp. tower.
Henso Airport Krit (North of Central Area)
Krit City airport (OGG):
The am main airport of the region.
Samara Ville
A new town expected in the emergency '4'5 update scheduled for 6/30 new details in versions section of the article.
The World, The City
About This City...
Krit needs everything a city needs. Here are some of these needs.
Hotels: The Sun Hotel Krit is a hotel that goes over highway 4. This hotel is inspired by the real-life Main St. station hotel in Las Vegas, USA. The EarthV Hotel is a new hotel built for update '4'5. One more hotel is going to be in the Tormansk Area.
Trains: The Krit Freight line is a train line that goes through the southern area of the city. It is the only train line in Santoga and there are 5 different types of freight being transported on this line; water, oil, scooters, wood and other.
Airport: The airport has two terminals and cargo terminals.
Transportation...
Since Santoga's main goal is to be a greener country, you need eco-friendly scooters! This is why roads, parking, and highways are thinner for the scooters. All road transports are scooters, even delivery and public transportation vehicles. There is only one highway, highway 4, which cuts through southern and northern areas and loops in central.
The Krit River...
The Krit river runs through southern Krit, along the highway. There are several inhabited islands, the man-made Tuttle Back Island, Crescent Island, Brol housing Isles, and BE L7 football field.
Sports Program...
L7 Sports is the only professional sports league in Santoga. They host games for football, basketball, and baseball. Basketball and football stadiums for L7 are in Krit, with the baseball stadium in Astonville. L7 is also a partner and proud supporter with SantoganAir.
Air Defense Base...
There is housing next to Krit ADB, but are not connected. The base is a separate 'village', all in one building.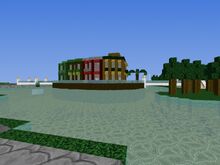 Krit Bay Islands...
AKA Samara Ville, after Samara who is responsible for the creation of the islands.
| Krit Bay Islands | status |
| --- | --- |
| Samara | Housing and apartments |
| Covina | Cargo docks and ship launching center |
| Slovakia | Hosts cruise ship terminal and hotels |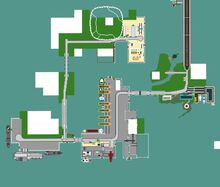 Samara Ville is located in Krit City bay area and consists of 6 total islands. It is has own area in the bay, and each island is only accessible by highway 2 or swim or boat.
Whats Next?
I (the builder) will keep updating this world to fix major and minor issues and details.
Versions, Future Updates Info, and Dates:
'1; Debut. Scheduled for 6/9/2020
'2; Detail improvements, such as finishing some buildings and adding more trees. Scheduled for 6/11/2020
'2'5; South Lake construction and completion with three islands. Scheduled for 6/13/2020
'3; The biggest update yet, a new second airport terminal and completed highway that goes under taxiway and runway. Also more trees and buildings, and extended the train line. Scheduled for 6/16/2020
More Info on future versions coming soon!
Community content is available under
CC-BY-SA
unless otherwise noted.