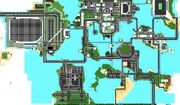 Isle of Poseidon (Built by Andy500) is dense urban area based in the island biome of the normal world. The world combines elements of Dubai and Miami to create a new unique style. The city contains 2 major skylines (Downtown and Sunset Shoals), many futuristic skyscrapers, and is home to several impressive venus and a small airport.
Downtown
The Downtown skyline is the most dense area of the city, and is also where the very first developement in the world began. 
This section of the city contains Old Poseidon Stadium (Old soccer venue), a ferris wheel, a port, Midtown Arena (Basketball stadium), and countless skyscrapers. Devlopement is not finished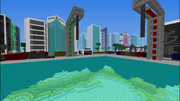 as of when this is being writen, with several lots that will see devlopement soon. This area is also home to 5 subway stations and a major underground parking deck. 
Sunset Shoals
Sunset Shoals is the second and smaller skyline of IOP. It is on its own island and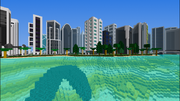 features a futuristic style. The skyline recieved a large redevelopement in early 2020 which added most of the current skyscrapers and a small park.
Metro and Transportation
Subways: IOP is home to a 4 line subway system that serves and connects the islands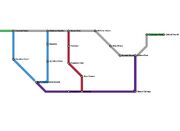 . They offer a fast way to navigate the city, but don't offer views of the city since they are underground.
Above Ground Transport (AGT): Currently under construction, the AGT will feature one line that will connect the major venues to ease traffic on gamedays while still offering views of the city. 
Airport: IOP International Airport connects IOP to Eden's other 
major worlds.
Roads and Parking: IOP's roads and parking are designed to be as accurate and real world as possible to prevent bottleneck traffic and give a more realistic feel to the city.
Venues
IOP is home to several major venues, which are listed here:
Football (American): Paradise Colosseum
Basketball: Midtown Arena
Baseball: Poseidon Park
Soccer: Poseidon's Palace, Old Poseidon Stadium
Tennis- Trident Stadium                                                    
Other
IOP is always expanding, and contains residential areas, a church, reatail, and much more. Go explore what it has to offer!
Community content is available under
CC-BY-SA
unless otherwise noted.