Frabanta is a city built by Santiago Hidalgo (santiafo), its located in Santiland nation and it has been growing since August 2012. However the first version aviable was finally uploaded in April 2017. The city is located in the coast and has a fresh climate. It is currently divided in 26 sectors. The city has been always developing, giving like this all the things a metropolis should have, all the wants and needs.
- FRABANTA V5'2 is out!! verify it has the date March 12, 2019(03/12/2019).
-FRABANTA WINTER IS OUT! this version is a version of V4'0 where it was modified with vuenctools by Jeremy to make it look all as in winter.
- Also take into account that this version takes +1GB of space!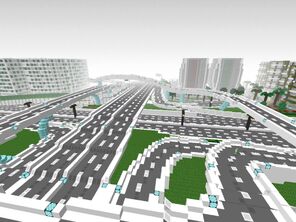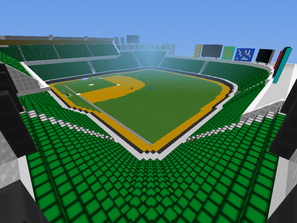 History
Building history
When the city started it was meant to be a little town with some houses, all this changed when the first airport was built, this led to many changes where the city started to form and expand in North, West and East direction, later in the South the coastline. This airport was located in the Perula sector but nowadays in the original place where it was its a park with convention center, and next to this the private plane airport. The international airport was removed to the West of Frabanta in 2014, here it has been modified or expanded 6 times, with the latest expansion occurring nowadays in 2019 (New runway replacing the small runway, car rentals), the airport now has a masterplan where is planned another private terminal, 'fighter' jet terminal, new cargo terminal, also ongoing hotel construction which you can see entering to terminals 1,2 . The city was facing big expansions so the Highway systems appeared, later subway systems, bus stations, trolleys and the airport mentioned above. Thanks to this advancements the city expanded having as a result downtown areas, residential areas, commercial areas and luxury areas. Now its also beginning to sprawl in Frabantas islands since vial infrastructure is being done.
Fictional history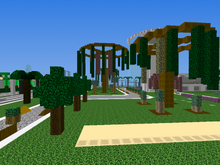 The original expansion place was meant to be at the south of the current international airport, but Spanish people arrived in sailboats and did an invasion there with bombings, but some finally changed their mind and stayed in this prosperous land and lived peacefully with people who survived and resided here, then the inhabitants of this destroyed place which used to be called Historica moved to the east, here a town was built where currently is located a part of Perula and East beach, for many time it remained as a small town with basic needs and wasn't so developed, then was discovered all surrounding areas had hidden resources, which led to the rising of Frabanta with the first airport (used to be located in the south of Perula) and the
name of this airport was called "Mariscal Sucre" (it exists in real life in my hometown!). With this the first building was made, the Citybank, but at first it was just a small city with many small houses and few buildings, no sidewalks nor much to do. Thanks to the aviable resources more technology came with more development, suddenly it started looking as an advanced city, houses and apartments started to appear shaping the town along with the rise of more buildings, making like this a sustainable city with development to how its known today.
Flag
The flag of Frabanta was made along with Frabanta representations and characteristics, having like this a flag with colors:
Turquoise: represents the water and the actual peace this city has, represents also union.
Green: represents nature, looking forward to a green city
Orange: represents sacrifices and power
This flag has also a simble inside the flag, this symbol is a sailboat(represents transportation in which more people came in the past to Frabanta), an airplane(transportation which led to more development), point with lines in X form(MIDO logo, represents technology as it has helped the city to be greener).
Frabanta future
Frabanta is constantly experiencing a urban sprawl. This growth is currently making the city evolve by adding vial infrastructure to Frabantas islands, adding more trees, lanes for electric trolleys, restored infrastructure and infrastructure changes, etc etc.The city is projected to grow even more, some plans for the future of Frabanta among many are:
If height limit is increased skyscrapers
More urban planning and development
Parks
Infrastructure projects along a swamp styled area in front of ''beach''
Airport masterplan
New tennis stadium that will replace old one located in Perula
Transportation
Roads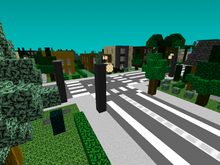 the measurement on blocks of roads doesn't count with the measure of sidewalks or borders included.
Highway
This roads are all over Frabanta, their wide vary from 11 blocks(4 lanes), 17 blocks(6 lanes), 23 blocks(8 lanes), and the biggest one which is divided in four parts a total 29 blocks (10 lanes). they are conected with each other and some avenues with road exchangers, found in intersections.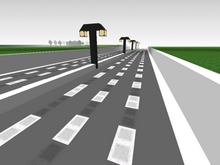 Avenue
These are the principal roads among neighbourhoods and are normally 12 or 13 blocks wide(4 lanes) and the middle space is always 2 blocks and of grass or yellow, the only exeption is the Main avenue across The palms and Spiros which has 3 blocks separation.
Simple street
A road 5 blocks wide found among all the city.
Normal street
A road 9 blocks wide found usually in residential areas and downtown areas, this road has space at the sides for parkings. The sidewalks are 2 blocks wide and sometimes have a separation of grass between the road and the sidewalk. Some normal streets now have public space apropiation, which means converting a space for parking pedestrian friendly and with more plants, all these spaces are painted with turquoise and between parking spots.
Luxury street
A road found just in luxury sectors which is 7 blocks wide and the sidewalks are 2 blocks wide counting with a grass separation from the streets.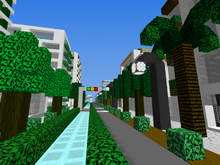 Trolley road
Trolley roads are new types of roads exclusively for public transport, which are only for public transport, bikes and pedestrians. They are found in some commercial sectors.
Mixed transportation street
Streets which have a lane for cars, a lane for trolleys and a wide space for pedestrians. Currently they are found in Huewich (newer downtown area).
Airports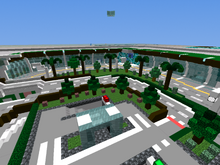 Pacaras intl airport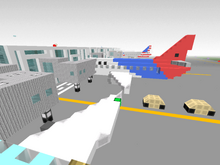 This is the principal airport of Frabanta, has 3 landing/takeoff runways, 3 terminals with 44 boarding bridges, and essentials as catering terminal, hangar, energy plants, firefighters and control tower.
Currently the old airport hotel, car rentals and cargo terminal were demolished along with a library, another hotel, 11 commercial locals and 7 houses in order to Expand the aviable space on the third terminal, currently the cargo arrivals are being brought from another airport out of Frabanta where a provisional structure was made. The hotel and car rentals will be relocated in the same area but it will be bigger.
It is also planned a military plane fleet which will serve for defense in emergency cases and mostly for doing shows in the air, more hangars, a new runway that will replace the first runway built, and a new private terminal.
Anotya airport
This airport is destinated to private plane flights and flight school, its a smaller airport which occupies an space which was once part of Mariscal Sucre airport, it has 1 landing/takeoff track, control tower, flight school, hangars and a small terminal for the private jet flights. Soon this terminal may be on its full capacity and authorities decided a new and bigger private jet airport will be built in the north of Cook hills due to increased demand in plane storage. There will also be another small terminal for private planes in Pacaras intl which will serve for bigger planes.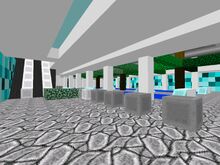 Subway
The subway system is in constant expansion, it currently counts with 12 stations (some of them connecting lines). This stations are distributed in line, these lines are: Blue line, Orange line, Purple line, and soon a new Green, Turquoise and Red lines will be opening as a result of city growth. All this subway stations may have the same standards.
Maps
City map
https://imgur.com/gallery/AADbxng
-current waterlines won't be the future layout. New map will have the swamp area shown
Subway map
http://imgur.com/a/VSG9P ( scroll down to see the subway line map) soon a new subway map with the newer map
Sectors map
https://m.imgur.com/gallery/A7Dp8py
Administrations (sectors)
East Beach

A commercial zone where you'll find many residential buildings, commerce, some older houses, a small bay and 2 artificial islands. East beach also hosts Estadio Santiago and '1st yatch club'. Most buildings were built before 2015 while new edifications are still appearing around...
San Juan
A mostly commercial zone serving the west of east beach and the airport.
Perula
The oldest sector of Frabanta, here you will find things such as buildings and commerce, smaller residential buildings, east bus terminal, a tennis court, a convention center, the Millenium park, etc. All southeast Perula (the part where the bus terminal is) before was an undeveloped part of Frabanta which was reconstructed as it had evolved.
Midantha

A sector that is as commercial as residential. Here you will find 2 shopping malls, a central park, Perry club, the old governors administration, and many houses and buildings. Midantha had in its past a military facilitie and was home of all Frabanta's malls until one of them became part of Unicity.
Unicity

Here is Frabanta's international university, many buildings and commerce, houses and an ongoing new real estate development.
West Palms

Here you get to see the oldest luxury villas of Frabanta among some newer ones occupying the space of what was another military facility and a highway. you also have some commerce around the first boulevard and the Diora country club. Here is also located the first school and a green ecologic themed urbanization
The Palms

A luxurious neighbourhood founded in 2015. Here you will find Joanne country club and big houses along with some of the biggest mansions of Frabanta. Its also where Palmeria school is located. Its one of the few sectors where you find some hills.
Spiros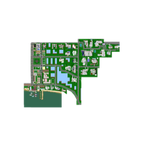 The continuation of The Palms, located at the south going from The Palms. Here are located Frabantas biggest Mansions and big houses. It also has coastline where a yatch club is located, around the main avenue is where you'll find some commerce and gourmet restaurants, also has the only luxurious residential building found in the eastern part of Frabanta. Here is from where you access antoya airport.
Cook Hills

Its the newest luxurious neighbourhood. currently you only have the commercial center and very few apaprtaments. Around its commercial center will be developed more luxury real estate in hill terrains
Risueño

Its a growing residential neighbourhood. Currently has the Amazonas water park and houses. in the future commerce will apppear around its main avenue. Risueño appeared in 2017 with the opening of Amazonas water park. This led to develop it as a residential neighbourhood as its located around residential areas.
Floresta Frabantina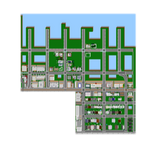 Its a commercial and residential sector located between downtown areas and Risueño. Its actually inspired in a sector called La Floresta in Quito but with its Frabantian touch! It was founded in 2016 after Pragoria baseball stadium was built, it had actuallly that name before as it was only the residences next to the stadium, but somehow the stadium adopted its own sector status. Then it started redeveloping and the name was changed. Here you will find many commerce and residences that have its disctintive style.
Town Center

Town center is the main downtown area of Frabanta, here you'll find union square and many avenues filled with residential and commercial buildings. Its also where the Frabanta stock market is located. It was founded in 2015 with its first building being the Happiness headquarters. Pragoria baseball stadium appears as part of town center because its considered part of downtown.
Huewich

Huewich is an emerging commercial area where you'll find many residential and commercial buildings, The Exogenesis square,Huewich Central Park, etc. Its considered downtown area as its destined to be a centric area, so here you'll find commonly night entretainment, restaurants and many commerce... It was founded in 2016 and its first building is located at the south, its disctintive is it is all red, small, and has a bar.
Gold Gardens

A special downtown administration having some big edifications. You'll find some commercial buildings, Groups of buildings, MIDO sci-spatial center and a central plaza. Soon Gold Gardens will have its own street design that will distinguish it.
Greenlands

Was the first grided style neighbourhood, founded in 2015. Here you can see commercial buildings around the main avenues boarding with Gold Gardens and Green light park, a school and houses. It was originally thought to be where downtown buildings would grow but its too close to an airport runway.
Pretoria
When Frabanta was smaller Pretoria was meant to be a mansion area and it actually had 3 of them and the Ditadura residence that still stands. Founded in 2014, is now a neighbourhood that expanded to actual downtown area and has as a result a commercial and residential part. Here you''ll find Green Light park and Aquila school. From Pretoria you access Pacaras intl airport First and Second terminals.
Central Industrial area

Located at the west of Pacaras intl airport is an area desidned to be a new industrial area from where you'll also access the future cargo terminal of the airport. Founded in 2017.
Adenia
An emerging residential neighbourhood next to the central industrial area, it appeared as a result of the construction of Pacaras third terminal. Here you can find houses and a few commercial locals, you can also find some energy stations.
C1
A countryside small part located in Frabanta's 'city area' where you'll find some crops and countryside homes. It appeared in 2018 along with Highway T3 expansion.
Crowley

Crowley is a new urban development planning in the outskirts of Frabanta as the city will expand to that direction too. Currently it has no infrastructure in exception of streets. It will house a UN headquarters as well as another university.
Galicia

Galicia's squared street part is where the old settlement was until it was destroyed...now the city limits are reaching back this area that will have a 'historic' disctintive style to recover its past, as well as new parts with constructions of suburban homes.
Pacific Heights
A new sector located going west from Greenlands, It has planned commercial and residential zones but is currently small with some houses and commerce.
Westborro
A new sector at Huewich's west, it will be the place with some of the Biggest buidings in future Frabanta. Currently it has the Highest building of Frabanta but its the only building finished yet.
Wakiba islands
A new sector where you have a Yatch club and developing infrastructure for hotels or residential buildings mainly.
Jeremytown
A new sector in hounor of Jeremy, who helped to develop shaping Frabantas islands! Here is the biggest hotel of Frabanta, which is on final works since its also being worked on its surrounding vial infrastructure. Here its planned Jeremycorp headquarters and in a future its intended to have more buildings.
Nisot
New sector where mixed use infrastructure will be built. right now there is only a public pool project and layouts for Highway T1 expansion. It is currently part of the islands that are still unconnected to Frabantas mainland and its only accessible by boat or swimming.
Naifaru
New sector where further luxury real estate development will be built. It will be a new luxurious sexctor
Tenguru
New sector intended to be residential mostly, both islands are connected and have vial infrastructure works but also remain unonnected from Frabantas mainland, accessible only by boat or swimming.
Raguannawi
Unregulated island where a part of Highway T1 expansion will pass. Not connected to Frabantas mainland, accessible only by boat or swimming.
Pao Pao
Unregulated islands. They are not connected to Frabantas mainland, accessible only by boat or swimming.
Kunashiri
Unregulated islands. They are not connected to Frabantas mainland, accessible only by boat or swimming. Its rumoured Kunashiri was part of a group of ancient tribes from nearby islands so their village which was in Frabantas islands might be redeveloped for those who come to adapt better.
Tonchigue
Unregulated islands. They are not connected to Frabantas mainland, accessible only by boat or swimming.
Main Iconic or Big buildings
| Name | Information | Aprox date completed |
| --- | --- | --- |
| Millenium park | Located in south perula, here was the airport before and now its a park with convention center. | January 10, 2016 |
| Gavilanes park | The smallest park between the main ones, located in the old downtown area known as Midantha. | October 2014 |
| Green light park | A big park located in western Pretoria, with volley fields and a tiny botanic garden. | July 15, 2015 |
| Spears square | The only of many small parks or plazas catalogued as iconic due to the fact it is a meeting point of southern luxury sectors, it also has restaurants and a few stores around it. | June 24, 2016 |
| Union square | Inspired in Times square but different form and heights, turning to the central point of downtown, its surrounded by massive billboards and stores like: Apple store, Forever 21, Mac donalds, Taco bell, among many others. located in Town center. | December 21, 2016 |
| Estadio Santiago | A soccer stadium in East beach, modified once. | June 7, 2015 |
| Tennis stadium | Originally a small soccer stadium but turned into a tennis court, located in Perula | October 2012 |
| Pragoria baseball field | Currently the biggest stadium in Frabanta, located in Pragoria. | August 4, 2016 |
| Crockers mall | Remodelated on August 1st, 2014. the biggest mall. Was originally called "Scala mall" an inspiration of a real mall. Located in Midantha. | 2013 |
| Kau mall | The first mall of Frabanta, located in the east of Midantha. | 2013 |
| Aqua mall | it was a big mall with its own sports club and had Ice court, convention center , cinema, bowling and a big food court. originally completed in 2014 but demolished because it had terrible distribuition and a very simple design. Rebuilt as a smaller mall with open spaces, currently under a new transformation to builldings as it has turned the central part of Unicity. was located in northern Midantha but now anexed to Unicity. | May 21, 2015 |
| Antoya airport | A part from this airport was once from "Mariscal Sucre" airport but now it remains as an airport for flight academy and private jets.Located in Spiros. | February 2016 |
| Pacaras international airport | This huge airport was the solution to the airport which was known as "Mariscal Sucre" as a result of the city growth. has been expanded 6 times, the last one on April, 2018 and still going on. It has 44 boarding bridges distrubuted in 3 terminals, 2 parkings, 1 control tower, 2 cargo docks, 1 hangar, 2 energy plants, 1 catering terminal, Mall, Firerfighters headquarters, 6 car rentals, car energy station, 3 landing/takeoff runways (1 is actually only for takeoff) and 12 taxiways. | November 9, 2014 |
| Spiros yatch club | A club with Pool, main building and docks for Yatchs, exclusive for elite members. Located in Spiros. | December 2016 |
| Diora country club | The first exclusive country club, located in West Palms inside a private housing development. with commodities such as: pools, humid areas, even rooms, restaurant, gym, tennis, horse court, soccer field and squash. | June 20, 2014 |
| Joanne country club | Exclusive country club in The palms, inside a small private housing development. It counts with: golf fields, pools, humid areas, events room, tennis, gym, restaurant. | February 2016 |
| Perry club | The first club in Frabanta, with a hotel included. It has a main building with things like restaurant and humid areas, pools, tennis, and the hotel inside it. | December 2012 |
| Terragea school | A school located in Spiros. before it used to be in East beach but it was moved to Spiros as East beach grew. | December 2016 |
| Palmeria school | The "best" school, for Frabanta's elite, located in The palms. | June 29, 2016 |
| Pino creek school | One of the biggest in Frabanta, located in West palms was the first school of Frabanta, has the biggest coliseum of schools. | December 2012 |
| The Aquila school | The biggest school, has 5 coliseums (multi sports, swimming, tennis, squash, theater). Located in Pretoria | April 29, 2014 |
| Tegulpa school | The smallest school, located in Greenlands. | 2016 |
| FIU (Frabanta international university) | The university of Frabanta with 10 faculties with many careers. Located in Unicity | April 2015 |
| Ditadura residence | This was the governors recidence and its still Frabantas main administration building. currently it has no governor as the nations system has no head of state to achieve a semi utopic society. Located in western Unicity | 2013 |
| MIDO sci-spatial center | A building dedicated to science and bringing new technology advancements, here was unveiled the new energy source for all sort of vehicles and efficient solar energy among many others. Located in Gold Gardens | January 2016 |
| Amazonas water park | Frabanta's water park! with 13 attractions. It was the first building ever made in Risueño, located there | May 2017 |
| The Exogenesis square | A concert/theatre venue located in Huewich, behind Union Square's west | July 2017 |
| Huewich central park | A small central park around the newest Huewich big edifications, currently growing infrastructure is going on around this park | January 21, 2018 |
| East beach islands | Access where was the old yatch rental, currently 2 islands that have the now new "1st Yatch club'. these islands will have in its first and second phase residential buildings and a small hotel complex. Located in East beach | February 20, 2018 |
Destroyed or replaced iconic buildings
| Name | Information |
| --- | --- |
| Estadio Santiago | Originally completed in may 2013 it was a soccer stadium with a racing track surrounding it. Demolished in 2015 in order to make the new, bigger one located in East Beach |
| Ball baseball field | Made in 2013, was demolished in 2015 due to incorrect building measures and regulations. It was located in front of Estadio Santiago at the west crossing Highway T2, currently residences are located there. |
| Scala mall | Opened in 2013, now called Crockers mall. Was the second mall, inspired in a mall called like that, was remodeled in order to have a more modern appearance |
| Mariscal Sucre mall | Was a mall serving for the demand of the old Mariscal Sucre airport, demolished because the airport relocated. Now its the east bus terminal |
| Mariscal Sucre airport | The first international airport, remodelated many times, turned to national airport for a time. Now a park with convention center and part of it is part of Antoya airport |
| Midantha military facilities | Frabanta had Military facilities until 2014. this one had land vehicles, labs, etc. Was demolished because of a peace treaty where was decided there will no longer be military service. It was located in the space of northern Midantha which now its all residential. |
| West Palms military airport | The military airport, had an office building, a small terminal and 1 principal runway, demolished in 2014 and turned into the luxury real estate development surrounding Diora country club |
| West palms periferial highway | A strap of highway that was once periferial, closed because it turned unnessesary and a waste of space, turned into more luxury villas mostly. in Frabanta V1 it can actully be seen the last part of it already divided into lots |
| Pino creek school | This school had a complete redesign in 2016 with some ampliations |
| Mariscal sucre airport 2nd terminal | Was located where now is Antoya airport terminal, half of it was underground and still exists below the current terminal, from where you can get to know it |
| 1st yatch club | The first edification built on the coastline, was a yatch saving and rental place, now located in east beach islands and the old locations is now the access avenue to it |
| Aqua mall | Was a big mall demolished to be built again but smaller. Currently has its 3rd remodelation where buildings are being added |
| Pacaras intl airport first, second and third terminal, hotel, car rentals | They were the first terminals of the new airport, 1st and 2nd demolished in 2016, and 3rd in 2018 in order to make a new terminals which are bigger for the growing demand. After this from 2018 to 2019 there has been demoltions for the new car rentals and the ongoing hotel construction. |
Community content is available under
CC-BY-SA
unless otherwise noted.