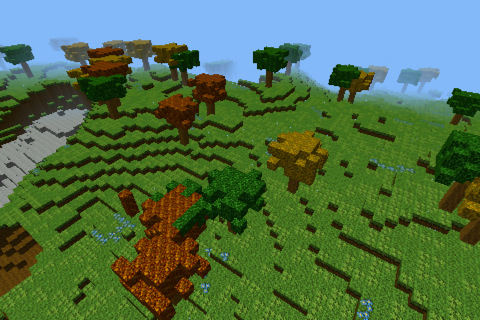 IMPORTANT NOTICE!
I know I'm not an admin, but this seems important enough to bring up. I recently edited the Creatures page. On Creatures, a vandal wrote Diei Diei die diiiieeee B**** (The first part isn't word for word, and B**** wasn't censored ). A Wikia Contributer vandalized the article. If you do not have anything nice to say, do not say anything! Is this a place for happiness or profanity? The correct answer is happiness.
X-145 17:48, April 28, 2012 (UTC)
Welcome!
Welcome to the Eden World Builder Wiki! This wiki is about Eden World Builder, a block-based building game for the iPod, iPad, and iPhone, where you can build amazing worlds and share them. This game was created by an Ari Ronen, and now by Kingly Software Inc, better known as Kingly Games. It has become a very popular amongst iOS users, and since its release, has risen to the top 100 of the App Stores charts.
In the game, the player controls an avatar, that can freely roam a "Normal World", or a "Flat World", upon creating one in the menu. The player can also destroy blocks with a pickaxe , burn certain blocks, paint blocks, and interact certain blocks, such as the Ladder or Vines, to explore the game.
At the start of the game, once the player chooses a world type, will enter a "World", or generated map, made entirely out of Blocks. The user can then build buildings, artwork, creations, objects, structures, vehicles, and anything else that can be thought of.
The "Normal World" is made up of Grass, Flower, Weeds, Stone, Dirt, Wood, Bedrock and Leaves. The "Flat World" is only make up of Grass, Dirt, Stone, and Bedrock.
Helpful Pages
Highlights of Eden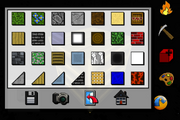 Features:
Admin Notice Billboard
Well, a quick notice. I'm seeing a lot of "future updates" pages. Do them when they ACTUALLY come out Thnx RUS

After much not research, sweat, blood, and coffee, i've decided that if you REALLY want to run a world page that was rejected, or you simply want to keep your followers up-to-date on your latest update, Blog posts WILL be allowed, so long as the world is not ridculous and/or inappropriate and/or spam. This will be weighted by me and the one and only Cin316. However, you can make the BLOGS (not pages) w/o having to get approval, just keep in mind that these blogs may be asked to be deleted, or changed! I have yet to ask cin, so just hold your horses 'til ive gotten the "OK."
Rainbowunicornsniper (RUS)

Well , since the voters on my page said that yes, I am interested in a government, i've begun to formulate a plan... However, it will require some honesty and cooperation. Let me know about any questions!
-Rus

We've had our first spam attack at Eden World Builder Wiki. The Creatures page was vandalized and "diei diei dieie dieieiee dieiei die b****" was put on it. The spam was fixed (by X-145), and I will ban the IP that did it, but we cannot let our guard down. There may be many more spam attacks in the future. If you see any spam, please fix it immediately.
--Cin316 00:37, April 29, 2012 (UTC)
---
We NEED more work on the Worlds Category, and NOW! I have been trying to add stuff, but everyone else has been spending time on its great and glorious future, which sadly, will not happen unless we start cracking! Sorry if I'm ranting to much...
RUS (sorry i didn't put this on the admin notice board, cin, but this is too important...)
---
As an apology gift, I've created a logo for the wiki. This is my way of saying "Sorry" for not working on the wiki. You can see the full version of the logo on my talk page. If you would like me to change the logo, please contact me on my talk page.
--Cin316 04:02, April 13, 2012 (UTC)
User of the Biweek
A user is selected by the users of the wiki in a poll (below) every two weeks. Please put nominations on the talk page. You cannot be User of the Biweek twice in a row.
X-145
X-145 has been selected to be user of the biweek for April 29th to May 12th, 2012. He has recently joined the wiki and is has been doing lots of editing, quickly promoting him to #3 on the Leaderboard. You can contact him at his message wall.
Who should be the user of the biweek May 13th to May 26th?
Previous User of the Biweek articles.
Latest activity