Line 9:
Line 9:
 
 
 

One of the major features in Eden are the [[Block]]s. Which allow the user to build anything they can think of.

 

One of the major features in Eden are the [[Block]]s. Which allow the user to build anything they can think of.

 
+
 
+
 
+
 
+

==Creatures==

 
+
 
+
 
+
 
+

Creatures are cute little animals that players can interact with. If you damage then with your [[Pickaxe]] they can turn mean and attack you. Once one hit you they go back to being friendly.

 
+
 
+

A doodle of a Creature drawn by the Dev's of Eden.

 
+
 
+

[[File:180px-Eden--world-builder_001.jpg]]

 

[[Category:Eden]]

 

[[Category:Eden]]

 

[[Category:Worlds]]

 

[[Category:Worlds]]
---
Revision as of 01:55, 2 August 2012
Note: This article is currently going under major construction and info will expand in further edits. You can help by editing (Eden World Builder)
Eden World Builder is a sandbox building game released for iOS Devices. Eden World Builder is developed by Kingly Games, an extremely small development team of about 4 or 5 people. Eden is popular and is within the "Top Apps" in the App Store.
Features
Blocks
One of the major features in Eden are the Blocks. Which allow the user to build anything they can think of.
Creatures
Creatures are cute little animals that players can interact with. If you damage then with your Pickaxe they can turn mean and attack you. Once one hit you they go back to being friendly.
A doodle of a Creature drawn by the Dev's of Eden.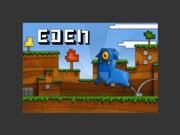 Community content is available under
CC-BY-SA
unless otherwise noted.