Eden: Unity Builder is a fan-made remake of Eden: World Builder for Android and PC, created by Danyadd . Development started in mid-2019 and is still under development. The goal of this remake is to repeat the original game on 95%. 
The game also has compatibility with Eden: World Builder, allowing you to run almost any world and converting it to a new file format. After release, the game will be open source.
Versions
BETA 1.0: The very first public version. Multiple blocks, no support for colors, ramps and most other things.
BETA 1.1:  Added interactive blocks, optimization.
BETA 1.2:  Added new blocks, improved graphics, but without Android support.
BETA 1.3 Unsuccessful attempt to transfer the game to the MineTest engine.
Current version: Private version, contains 85% of the entire gameplay of the original Eden: World Builder
Screenshots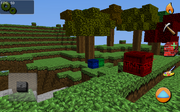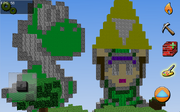 Community content is available under
CC-BY-SA
unless otherwise noted.