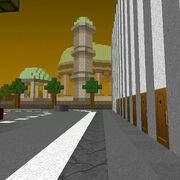 Doors are confirmed in the upcoming 2.0 update. They appear to be two blocks high. The door is another highly requested block to come to Eden. Not much is known about their physics. Most likely, the user will only have to approach it and it will open and probably close automatically.
History
1.5 - Doors orginated as a community generated structure, created by placing two water blocks on top of each other and painting them black.
2.0- Actual door blocks will be officially added to the game.
Trivia
It is unknown if doors will be compatible with the block size-change command. In other words, it is unsure if doors could be made bigger or smaller like others in the next update.
Before doors, people usually just colored water black and used that as a door instead.
Doors are tied with portals to be the first block to be more than 1 block wide or tall.