Arkrandia is a small country with two cities. It's full name is "The Citizen's Monocracy of Arkrandia"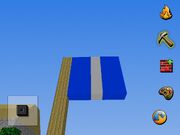 Features
Buildings
Amria
Many houses
A Resteraunt
A Church
The Arkrandian Democratic Government Building
Arkrandian Mining Co. Center
A Stop
A General store
Office Buildings
V Tower
Amrian public library
Public Transportation Center
Rembranch
Public Transportation Center
A house
A castle
Travel
Travel in Arkrandia uses a cannon. To use it you place a wood block at the beginning part then burn it. Without moving your joystick, you should end up in your destination city.
Gallery
Trivia
Due to the towns' size, Arkrandian citizens rarely use vehicles.
This country has no relations with any others
Stone is the most widely used building material with the Roads, Government Building, Church, Public Transportation Centers, and V Tower using it. The most likely reason is because the mining center has a huge surplus of stone.
The Amrian public library is the first building to address the town's name instead of the country's.